5 year warranty on your multicycle battery
Did you know that with Multicycle you have a 5-year warranty on your battery? Your battery will even be completely replaced in the first two years if it no longer meets our quality requirements!
Multicycle guarantees quality
Multicycle pays a lot of attention to developing a product that is as good and reliable as possible, where carefree cycling is paramount. A battery is an expensive part of your e-bike. With our warranty conditions, we do everything we can to ensure that you can enjoy your e-bike without any worries.
Criteria Multicycle battery
Multicycle is open and honest about what you as a user can and may expect from our batteries. That is why you can see in the overview below which criteria a Multicycle battery must meet, even after a longer period of use.
A battery is a so-called wear part. Every battery, including the battery of an e-bike, performs less in the long run. This is also referred to as normal wear and tear. In addition to normal wear and tear over time, the number of charge cycles also affects the residual capacity of the battery.
What is a charging cycle?
Each time the battery is fully charged equals one charge cycle. Our batteries automatically keep track of how often a battery is fully charged. Do you charge the battery in smaller steps, for example from 25% to 50%? Then that doesn't matter. The system automatically adds up the charges. Only when 100% is reached, there is only one charging cycle.
Years 1 and 2: full manufacturer's warranty
The capacity of each battery decreases from the first use. To ensure that you experience as little inconvenience as possible, our batteries are equipped with high-quality lithium / ion cells. This ensures that the capacity drop is very slow. This makes your battery last longer.
If the capacity of your battery during the 1st year is lower than 90%, or in the 2nd year is lower than 75% compared to new, Multicycle gives a 100% warranty on the battery and your battery will be replaced free of charge for a new one, provided the number of charging cycles does not exceed 250. *
Years 3, 4 and 5: Manufacturer's warranty subject to normal wear and tear
We have extensively tested what you can expect from the capacity of our batteries. Do you have problems with your battery? Have your battery checked by the dealer. Your dealer will then look at the residual capacity of the battery and the number of charging cycles. If this is lower than indicated in one of the above tables, your battery is eligible for warranty. The warranty we provide is based on the cost of a new battery minus normal wear and tear.
An example:
Suppose; after 3 years and less than 250 charging cycles, your battery has a residual capacity of 300 WH. Multicycle promised you that the battery capacity would be at least 311 WH. For this reason, you can then make a claim under the warranty. Multicycle reimburses the residual capacity up to 311 WH, above that is normal wear and tear due to use and the passage of time. This is deducted from the cost of the recommended retail price of a new battery.
* Assuming an average use, you can assume that this corresponds to 20,000 – 30,000 kilometers driven.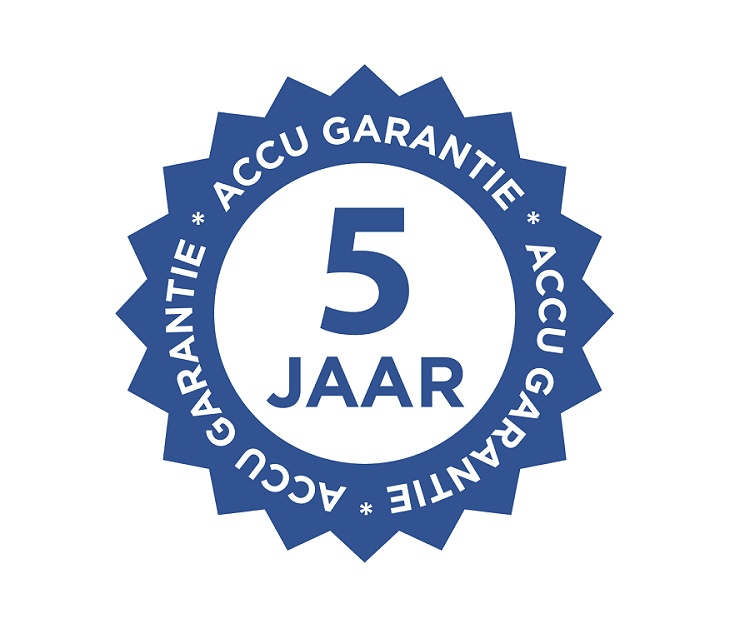 Please note: this promotion is only valid for models from 2019 and not for tandems!
You can register for the 5 year warranty using the form below this link.